Searching for the Real Cuddle
"Something Important"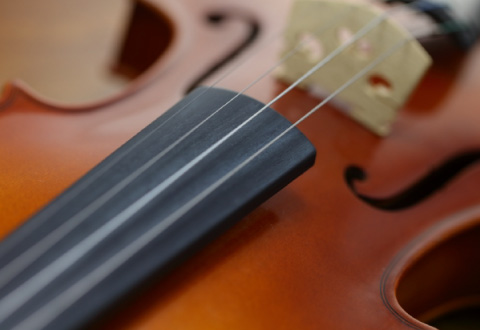 In 2008, right after the High-Resolution Recording became possible,I was recording a Chamber Orchestra as a project of a video game. When I listened to that sound with the air, I thought with my intuition "there could be something important in it" since I had had a conflict between the sound at the studio and one from a speaker.
Around the same time frame I started questioning the work in the video game industry which requires to fuel speed, hypo, anxious thought and escapist feeling. I was fortunate that pretty big success with an action-oriented huge work brought me more jobs and didn't have to worry about my job situation, but my inside question "Is this really making people happy?" never fade away.
Encounter with an Audio System with Curved Boards
After a while, I had an opportunity to experience an audio system with curved boards prototyped by a sound engineer. Though the sound quality was undeveloped, I felt that it was giving "something important" and I couldn't forget about it.
I talked to him that I'd like to produce it, and visitted him again and again. But the technology itself has no novelty, he actually couldn't teach me anything. The thing was keep going without any progress. And Great East Japan earthquake occurred during my visit. This old age engineer was almost burried under the parts we were working on falling from above deadly. I got him out and took him to the place his wife was waiting for. I wonder what if I weren't be there by accident.
Music to cuddle
By the way, I had an acquaintance who was in her 40s, at terminal stage of breast cancer. Meager income forced her in-home therapy. She used to like reggae music, went to clubs to dance. But she couldn't afford those sound with strong beat as the disease progressedI was trying to find something I could do to support in my own way, and I made an audio set, offered some original "healing songs".
But she past away several months later. It was really hard to see her two daughters' expressions telling me like "what did you come here now for" when I went to get the audio set back. I had to realize that I just gave them what I thought was good, was not standing by her or her family's side at all.
Harp Therapy
There was an American writer who was writing about my video game music. He was a pharmacist as his day job, worked at a hospice. He got to know that I started "healing music", and he introduced me a harp therapist. I had an opportunity to visit and look at the scenes in the hospice, and it changed my life.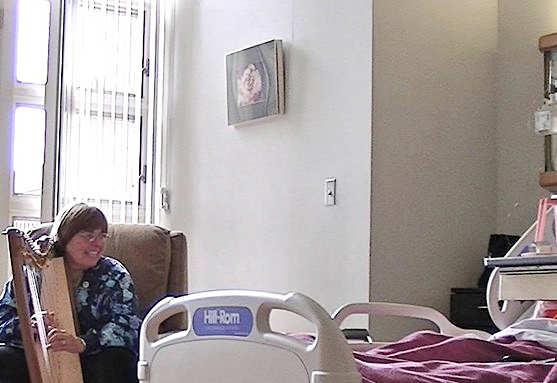 A harp therapist visits individual rooms, make a conversation with his/her family, then start playing the harp with a searching tone strum-strum along with his/her breath or groaning. Builds up the music little by little taking 10-15 minutes. Completely adlib only for one person right in front. I witnessed as a third person, was able to feel that he felt so much freedom, that he could even separate his soul from his body when the song was about to finish. On the other side I saw another patient "couldn't forgive" someone, suffering so bad, couldn't die and leave things that way. I received what the Real Cuddle meant. Mercy and prayer for one person who is right in front were always existed in her music.
I also learned that the harp therapists like she were supported by donation, worked at very low pay, and as a matter of fact they couldn't go to visit many patients. My intuition suggested me with no evidence. "Maybe the High-Resolution recording + Curved Board Pulse could be the key to solve this problem?"
Production of New Type Audio System Onset
Then I started cutting down my jobs in the video game industry, entered into producing an audio system which can truly cuddle up the listener through sound making to delivering it all.
That said, I had neither enough money, nor knowledge of speakers. First of all I began with visitting woodwork vendors that can possibly create an innovative audio system like this. Instruments makers, speaker company, sound engineers…the more they were experienced the more "Wrong way" they said, and nobody really replied. Most of all, the divided pulse (sympathetic vibration of box) is prohibited in the speaker's world.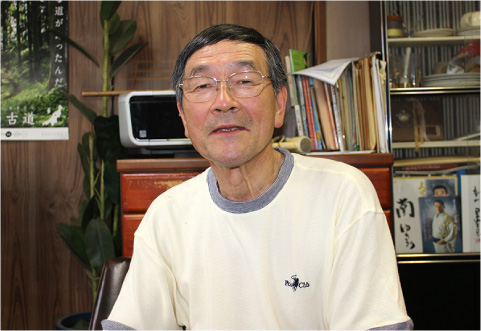 Mr. Norio Nagai, a Paulownia chest craftsperson in Kamo, Niigata Pref. was the only one who accepted. Not only he is a first-class chest craftsperson, he can handle electronic woodwork as well which is very rare. It's not too much to say that Rinshu would've not existed without this gentleman.
Though Kamo is a small town among mountains in Niigata Pref. their culture level is very high,They are also said that people moved in from Kyoto long ago. No matter what you eat it's delicious. What impressed me the most was; there is a public onsen called "Bijin No Yu (means Beauty's Bath), all the buckets there are put on bath chairs upside down (not to keep water inside) with exact same angles always. I've never seen any town with such high morals. It was very easy for me to fall in love with this town.
Distressed condition of the Paulownia chest industry hurt me so bad to hear, but I again, with no evidence, emphasized him that "this new-style audio system will be a new industry of Kamo!""Let's make a prototype anyway" and we started trying to make one with Paulownia wood. Actually the fact was like breaking up an old speaker to get parts, putting together with leftover wood and sound anyway.
Prototype Completion
Did trial and error for about 2 years, a prototype was made finally. Now it's an electronic circuit's turn. We went to talk with a PCB(printed circuit board) company in Tokyo which also produced speakers of their own brand through Mr. Amaki, of Industry Cooperative of Niigata's kind introduction.
We showed our prototype and asked to make a PCB for this. That was the time we had a great encounter with Mr. Yutaka Sato, who changed our destiny 180 degree later on.
Mr. Sato was a division manager of product design and technology of TV and portable music players for a famous company in their day. He also hold a leader position in a sound quality committee of all companies. He was a man who stood at the pinnacle of the audio industry in Japan."It won't sound" he said as soon as he looked at the prototype. He told me that he used to work for a company that let them try some unique-concept-audio-system to present, and had similar occasions. He, gained the insight of possibility in our suggestion, also found the situation that we were developing under no budget, said "OK, let me help you." He decided to help us personally with no compensation.
That Mr. Sato struggles with realities of this curved board system that "looks easy, but it's not" mountains to climb one after another. He said half joking "I'm on board already" kept moving cooly.
After around a year trial, the second prototype with a yacht-shape was completed finally. We were pretty impressed just for "it does sound".Anyway, a whole body vibrates, means that the pulse control must be accurate, otherwise every note can be "rip-rip" noise.
The Wall of Large-lot Production
However, the mountain was higher from there. Thanks to Mr. Sato, the man with many ideas, gave us the key to complete, but large-lot production was a big sudden wall.
Here is another savior appeared. His name is Mr. Kazuo Minami, of Sam Engineering Co.,Ltd.
Mr. Minami is highly skilled at "making", he designed and developed many special machines and products that never existed before. With well-experienced knowledge of machines, electronics, oil hydraulics, wonderful ideas, he has made so many new products, been asked to make difficult products that no other company could do.
He kindly put himself in charge of metal working, and "large-lot produces Drivers" which is the most difficult part. Hand-rolling the coils by ourselves was a reckless idea for a tiny company like us. It's pretty common to use ready-made units that more than thousands are made at one time. But the driver that Mr. Sato designed had a totally different concept from the existing speaker drivers. It was rather a driver to make a vibration of individual like a "body-sonic audio" and to play by High-Resolution basically, than a usual speaker which driver is to push air out. So it inherently had to be an original one.
Any small miss-bonding could cause "rip-rip" noise. We almost cried out. Kept making and throwing. We were doing this under the no-budget situation, so it was really agonizing every time.
Even that Mr. Minami almost gave it up once he said. But here is a maestro. He arranged the working studio to be able to produce entire products inside of the company, and used each and every possible idea to make fixtures one after another. About 2 years later, we finally achieved the level to make the stable produce possible. We do metal working with a company which has so many ideas and how-tos, has made so many front-line car parts or the like over Rinshu.
For a Design Realization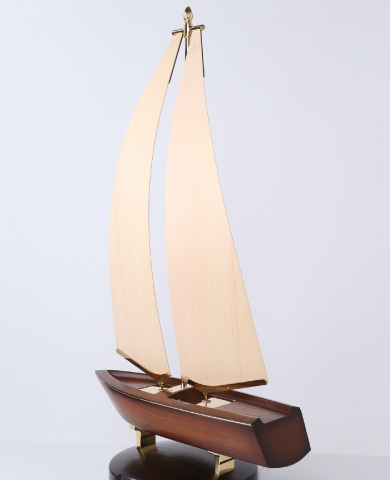 Product design is charged by a Good Design Award winner Mr. Katsuhiko Torii. He advanced my rough sketch to an artistic design beautifully. But this was a bleeding challenge for woodworks.
It has to be cut in 3D-curve and the gap between wood and metal parts must be less than 1mm. It was totally taboo in the woodwork world. Most of all the wood is elastic material. Making no gap between metal seemed to make no sense. There was no where to find NC routers to cut 3D-curve.
Here came another miracle. Mr. Amaki at Industry Cooperative brought us an amazing information that a woodworking plant in Kamo had the NC router to make it. Mr. Nagai, who survived the world of Paulownia chest craftwork, seemed that he didn't have a relation with this sort of youth-based company dealing with large-lot woodworks. But he thought of the future of Kamo as well, agreed with collaborating with this company, stepped himself forward. Then chemistry has born across generations. A traditional craftsman and a mechanical technician went hand-in-hand together which had never happened before.
To protect the industry of Kamo, to protect Paulownia of Niigata.
Raw wood purchase was the next issue. Keeping that very beautiful wood grain needed good ideas from cutting-out which is the very beginning. So Mr. Nagai made his way to a company hold mountains of Paulownia in Nagaoka-Koshiji town.
Demand of the Paulownia chest and craftwork, once had supported prosperity of Niigata area, became very low so that most of the companies were closed down. This company was the only one surviving.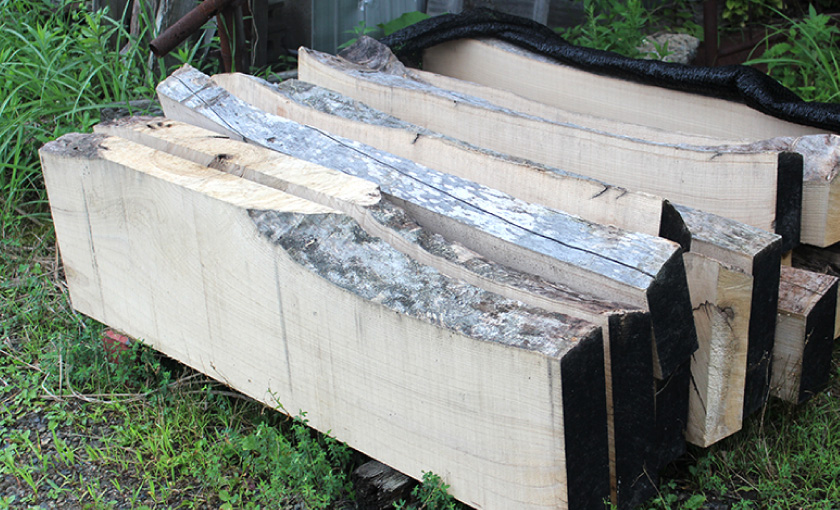 Plus many wonderful trees ready to be cut are standing on the mountains!Having no use of trees and keep behind, the forests would be really chapped. So the raw wood procurement for Rinshu pleased the local company as well.
After it gets cut, the raw wood needs to be left under the rain to remove tannin, then let dried, the procedure that lumbered wood doesn't need. This procedure takes 2-3 years. If you try to hurry, the wood may have cracks.
The company that has NC router even said they'd never handled any raw wood material. Because there would be many useless parts such as gnarls and chips. It costs time and money only to make no business sense, companies tend to choose to use less-expensive imported materials that are already lumbered.
But I talked tough again."If we don't protect the Kamo's industry and Paulownia of Niigata together, it's gonna be really over. No matter how much time and money cost, I really want to go with the-cut-out-raw-wood. Please give me a hand"Of course I couldn't afford the cost. But making 3D-processed grain with no gnari possible, there was no choice of "not doing this" either.
I know I put an enormous strain on those who were concerned. I myself sold the condo in Tokyo to pay the cost too. I had no place to return then, nor choice of turning back.
The Best Customer Feedback
At that time frame, I had an opportunity to do a lecture at Berklee College of Music where I was graduated from. I met my acquaintance there, and he surprised me to tell that he had been suffering from insomnia, hardly did his job.
Meeting people was not even an easy task for him, but we managed to meet up. He was totally different from whom I used to know.
Was not sure how Rinshu could help him, but I asked him to use it once anyway. He had tried every possible medical treatment, been suffering for 11 years, but rather had grown worse. His body clock was totally broken, once he fell asleep he wouldn't wake up for 2-3 days. If he put himself into that situation, his diabetes might kill him. He was in the a negative spiral of that fear made his insomnia even worse.
He explained me how hard it would be to face to a persistent disorder.
That he, heard Rinshu to go to sleep, woke up the next morning with no problem at all. It was amazing indeed. After that he kept using Rinshu everyday for 2 months, and became better even to be able to help my promotion in the U.S.One Rinshu which I gave without expecting any kickback, delivered the best feedback ever,
Scientific Evidence
And the person who assured me that it really effected the healing of mind was Prof. Nakagawa of Nagaoka University of Technology. Although he was already famous among the world of sensitivity measurement, he looked at amateurs with no money and felt "I 'd like to do something to support the local community as well". He accepted the research with a remarkable deal. Rinshu's revolutionary ataractic effort was verified that "remedy the comforts for 35%, decrease anxiety for 55%" comparing to normal high-class audios. Also according to the experiment which was just disclosed recently, they proved that "percentages of stage Ⅳ(the deepest sleep) of non-REM sleep was increased with 83% of test subjects"Conclusive effect regarding sleep was shown also.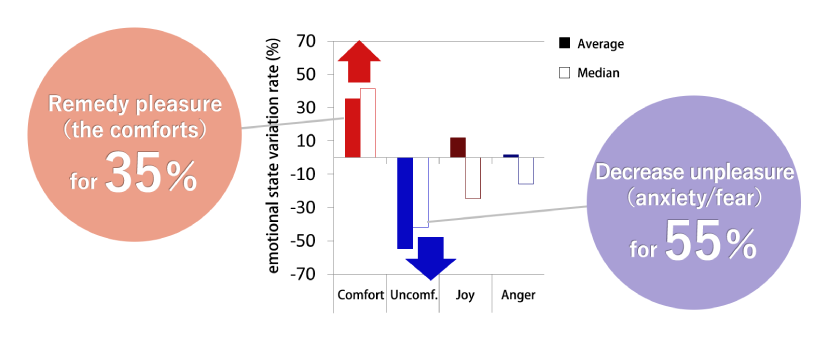 Making of Sound Source
Mr. Yamaguchi, the director of Yamaguchi Patent Office is also one of the great contributors. Not only passing national patent straight, but obtained US patent also. He guided us that knew nothing about patent.
On the other hand, music produce, which had been going since 2009, had consumed huge time and cost already. It takes at least 2 hours total for each song to write, arrange, record, and mix. So far we have about 300 songs prepared for Rinshu. It also takes time and effort to arrange musicians and prepare music scores.
Basic approach of recording is totally different from the normal recording for the normal music industry. Usually we arrange the sound to get the edgy sound up, but we work to get rid of this "edgy sound" for this music. So we have to adjust fader curve to balance each part of each song, just like taking care of each breath. There is a convenience tool to fix sound pressure named compressor, but we hardly use it. Actually human's ear itself has pretty high quality compression/ducking ability, to be able to hear as you want to hear, as you feel comfortable, which microphone or recording system don't have now. So we have to adjust that gap manually.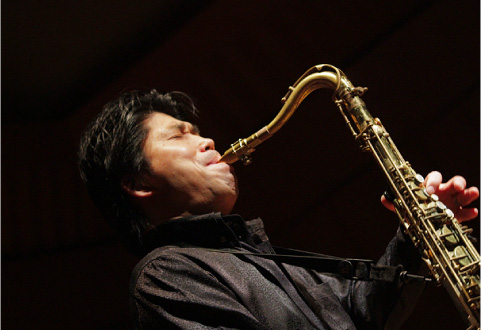 Same for musicians. They have a time for a prayer before recording without fail. The purpose of the song(to whom, how it will be used) are shared with them. Then set up the atmosphere and motivate themselves as "this is a place to become one tool together, not a place for self-expression " as they become one. Not afraid of making mistakes, aim for play that "you can see the picture"There is a criterion to see "this is fine" or "this is not suitable" that I learned through the repeated cuddle with care facilities and hospices. Whether clearing this criterion or not is more important than making perfect play.
To make it possible, the musicians' skill of instrumental perfect control, and musically wide understanding are mandatory requirement. They also have to agree 100% with our vision, plus put those essence and express into their sound to play within a limited time frame…finding such musicians is extremely hard. But most of those musicians become so well, and go home with faces filled with delight after their session.
Just like this, Rinshu was created with so many supports with no return indeed. I believe that Rinshu can become a real tool to cuddle all the more because of this massed love.