Light of Hope
A person suffering Low frequency hypersensitivity
People started telling me "Your face look brighter"
Low frequency that not supposed to be heard had been bothering me for years.It was so hard that it had disturbed my sleep as well.
Doctors didn't understand well, so I couldn't see what to do. One day I encountered Rinshu at a life counseling place in Shinjuku Tokyo. That gentle sound made me want to try, so I applied for a trial.
It didn't take a month to become that the sound of AC's fan didn't bother me much, and I realized I became much better. On top of that it's so grateful I that people started telling me "your face look brigher". I think Rinshu matched me very well.
I hope it would help more people since I heard that many people are suffering this Low frequency hypersensitivity.
— A private
It gave me a hope to get up in a situation of recalcitrant lesion.
I'd been suffering from a serious insomnia for a long time, my body clock was totally broken. I also had diabetes and high-blood pressure and such, I lost my job because of them. I was also a single, my days were filled with anxiety and fear.
Knowing that suffering would never go away, the painful heart that I had to face to it, an anxiety for the future how it'd gonna be that I couldn't see, and chronic pain took all of my joy of the life away.
The hardest time of my life, that time, Rinshu gave me hope of life, which means it gave me hope to get out of the bed, and try to go out.
It's not just a yacht model that I bought. What I bought is a character called "Norihiko Hibino"He has many wonderful faces such as recording skill, spiritual understanding, support for craftman, and all of them are "very special".No doubt about it,Rinshu is made with great care and obsessiveness.
— Former professor of a University in the U.S
Heart and Soul
A clinic which provides Home Hospice care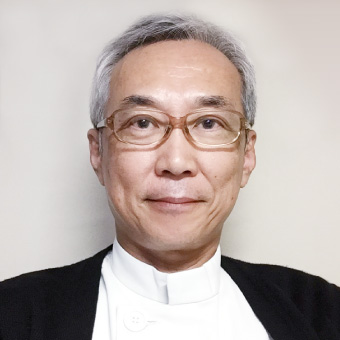 I believe that it can be Heart and Soul for patients.
I worked for cancer treatment as a surgeon at a big hospital for a log time. But I've been more committed to Home Hospice recently. Cooperation of many professionals are absolutely necessary for the home care life, but medical/nursing care can't support mental care enough. We need something to fill it to heal a broken heart. I believe that Rinshu, which you can feel not just from your ear, but with your whole body can be Heart and Soul for patients.
We play it at the waiting room in our clinic, they can hear it enough even in a very small sound. I hope it can help to reduce frustration and anxiety of patients while they wait.
— Katahigashi Clinic
Scientific Test
Scientific Evidence
"Human's sensitivity measurement
according to the curved-boards-amplified-music with higher frequencies than hearing range included, by Brain Fractal-dimension Analysis" (First Half)
Prof. Masahiro Nakagawa, Chaos&Fractals Informatics Lab. of Nagaoka University of Technology.
With 21 subjects between the age of 20-75, 5 people of hearing difficulties, targeting 26 people total, we measured sensibility volatility which can be obtained by Brain Fractal-dimension Analysis. We compared "Rinshu" with the pulse from curved boards, and a normal High-Resolution audio, using a same live-performanced music data of piano and saxophone, produced by Hibino Sound Therapy Lab. in 24bit 96KHz.
The subjects chose pictures that call pleasure, unpleasure, happiness, anger based on IAPS ( International Affective Picture System) first, set up criteria value of sensibility.
Then each subject listened to the sound from Rinshu and a High-Resolution audio for 2 minutes at random, measured a variation of sensibility.
Rinshu's was verified that "remedy pleasure (the comforts) for 35%, decrease unpleasure (anxiety/fear) for 55%" comparing to a normal high-resolution audio. (p 0.05)。
Especially the sense of "pleasure" exact the same average was shown between normal subjects and hearing difficulties according to the sensitivity regulation graph. It shows that people of hearing difficulties feel the same comforts as normal people when using Rinshu.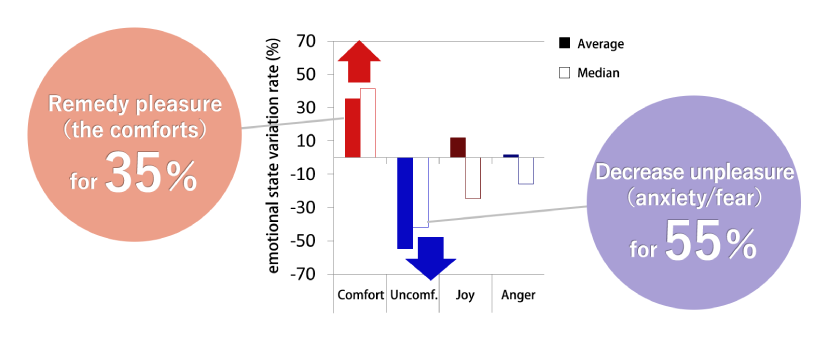 A Sense of Safety
Personal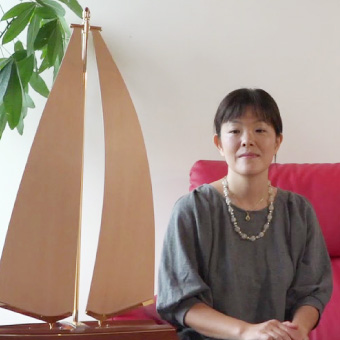 The sound coming straight to your heartBecame to accept the present situation.
The sound from usual speakers or audio systems felt like coming into my ears, listened with thinking in my brain. On the other hand, the sound from Rinshu feels like coming into ears straight down to my heart directly. Rinshu sound makes my heart feel secure and comfortable just like water seeping into sand of desert. Fulfilled, secure, simple and natural. My palms got warm and comfortable, filled my heart with secure feeling, getting to accept the present situation, and I got to have a time for my own. Helped doing my household task smoother, my body naturally moved easier.(His mother)
It sounds different from the audios that I used to listen. I like this natural material, good design, natural sound. When I listen to this natural sound before I go to sleep, I can forget about bad things, and gives me comfortable feeling thinking of woods or little rivers.(The first son)
Motivate him, help him living with his timing, even water some plants and enjoys seeing them grow.(His mother's impression from watching her son)
— Anonymous(Family: mother 43y/o, a daughter 14y/o, a son 11y/o)
Spiritually Rich - A certified childcare center
A certified childcare center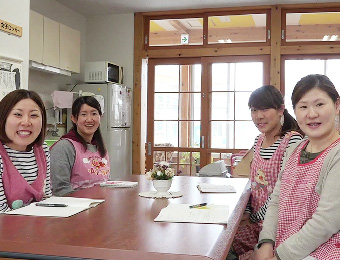 Calmness to the staff is the biggest change.
We've been using Rinshu here more than a year and a half. We have 11 nursery rooms here, using it in order. It seems to effect especially kids of 1 and a half year or older, a care receiving kid who always had a difficult time taking a nap, really fell asleep with a song called "Good Night"Since then we play this "Good Night" for a nap time.
Also, children's songs that we sing often like "Haru No Ogawa(Whisper, Whisper Little Stream)" are in this, they enjoy singing along with it. We also use it for Lunch time, which make us feel like we are at a restaurant. Most of all, calmness to the staff is the biggest change. Maybe the kids can feel it too.
The staff like it so much when we put it at the office. We all have busy days, but it helped us concentrated on our works, raised the efficiency. We felt uncomfortable when it was removed to the kids room.
Especially "kids-anchored nursery, real stuff even because they are kids!" are our motto. It's grateful to get to experience Rinshu sound, or its presence to help us being spiritually rich.
— Minami Uonuma-city Urasa-ward Certified Childcare Center
Scientific Test
Scientific Evidence
"Human's sensitivity measurement
according to the curved-boards-amplified-music with higher frequencies than hearing range included, by Brain Fractal-dimension Analysis" (Last Half)
Prof. Masahiro Nakagawa, Chaos&Fractals Informatics Lab. of Nagaoka University of Technology
We compared with listening to the same music with same arrangement, played by computer as a control group. It turned that "Comfort" feeling was reduced 55%, "Anger" feeling was gained 16%.(p < 0.05)That means the comfort from music depends not only on the songs' quality, but on the instrumental playing situation and circumstances also.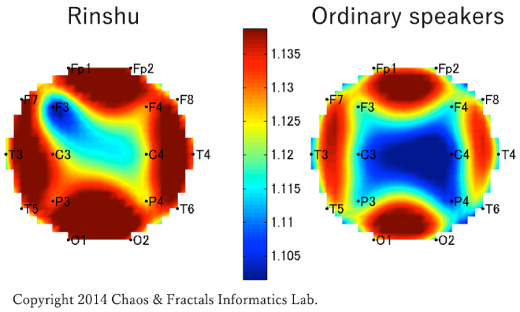 We measured the brain fractal number(state of brain activation) of the subjects, you can see that the frontal area of right brain which is activated when you feel "comfortable" is activated, and the front area of left brain to feel "uncomfortable" is deactivated with Rinshu sound. This gap doesn't appeal with the sound from ordinary speakers. This disposition shows more clear with people of hearing difficulties with audibility.
Spatial Presentation
by Sound
Infusion Clinic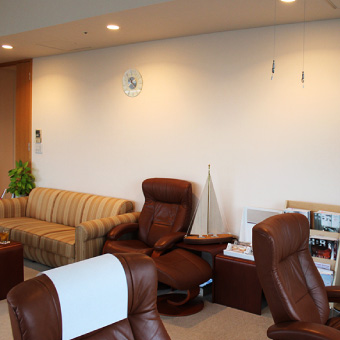 Favored by patients that take hours course of injections.
We used to use a speaker from a ceiling and BGM system, but we had to choose CDs and change CDs. The patients give us good feedback with Rinshu sound like "the music comfort me" and we've been using this for a long time. We have patients that take hours course of injections. The sound dorsn't stay only around the chairs nearby, and its looks get along very well with a relaxing atmosphere of this clinic.
—Sanbancho Gokigen Clinic
Scientific Test
Scientific Evidence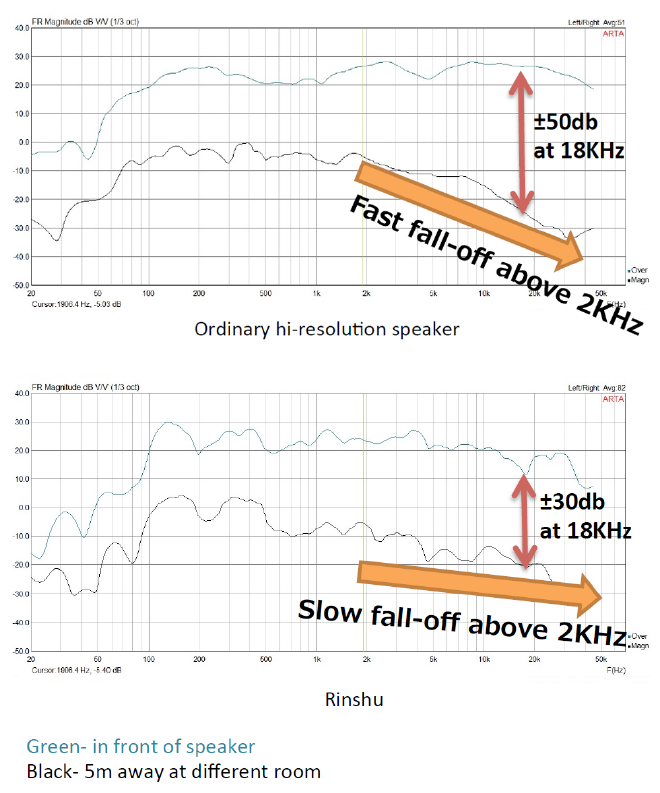 Rinshu sound can fly far away the middle and the high range that affect how you hear, so that the sound goes equally even in a complicated-shaped building with many objects inside (just like clinics).
Positive
Atmosphere
Care facility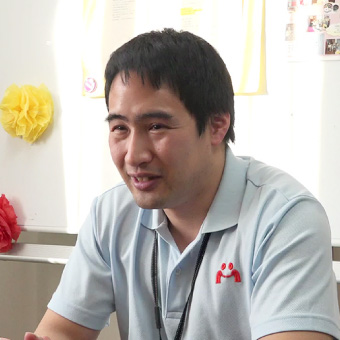 I believe that Rinshu has a power to fix the atmosphere.
This facility's average level of care needed is 2.5. We have 3 people that can't sleep well. We heard about Rinshu when we were looking for a solution to solve, and we decided to try. Today is the day 3, we play custom-made program called "Good Night" from 6:30P.M. to 10:00P.M.. Those who didn't sleep before midnight go to sleep before 11:00P.M., that is really helpful. Also we have another person who scream out loud, but it didn't happen these 3 days, which is such a revolutionary thing. Entire atmosphere affects state of users very much in a small facility like us. I feel that Rinshu provides a good impact to both users and staff here.
(At an interview one month later) Now we play this almost all day long except a TV time.another person who couldn't sleep got to sleep even after we switched stabilizers to candy. Another one's stabilizer amount became half. Most of all I feel the entire atmosphere has become much more positive.
(2 years after start using)Recently we have more occasions of deathwatch here. Rinshu help us much even through those. For a temporary period of time not using Rinshu, residents became incoherent sometimes, screaming "I need my family here!" or some disturbing atmosphere flew often. But deathwatch with playing Rinshu is really smooth, they past just like they go to sleep even though they have a little rough breathing, the staff wes able to handle without upset. I believe that Rinshu has a power to fix the atmosphere.
—Care Facility Sasaeai Nakayoshike (Major neurocognitive disorder-ready group home)
Gratitude
A patient with Parkinson's disease
Getting to have even a short time of relax.
My husband used to have many nights couldn't fall sleep because of Parkinson's disease. My encounter with Rinshu has helped me having more days falling asleep naturally, has reduced the days to use soporifics. Rinshu is set in the bedroom. I play Rinshu from 30 minutes before I fall asleep every night. I enjoy choosing the songs everyday. Most of the nights I keep playing it in low volume all night long. There are many songs bringing me back in memories too. I close my eyes and fall asleep thinking of those good and old days. I've been experiencing the healing from my soul. The 1st floor is our business office, and the 2nd floor is our residential area, and we talk on the phone all the time, a little hard to draw a line between public and private. Sometimes it feels like working all day until late at night. Sometimes it was hard to get refreshed. Recently we go back to the resident on the 2nd floor, turn Rinshu on. We can relax even in a short time because the music can reach all the area. It's such a wonderful gift of affect the encounter with Rinshu brought both of us. We do appreciate for meeting Rinshu from the bottom of our hearts.
— Self-employed husband and wife(67 y/o, 63 y/o)
Scientific Test
Scientific Evidence
"Effect of Sleep with curved-boards-amplified music including the sound higher than hearing range on Psychiatric Patients"
Presented at 22nd Annual Conference of The Society for Integrative Medicine Japan in 2018 by Dr.Tatsuya Imamura, Medical director of Sasae Ai Yorozu Clinic, and others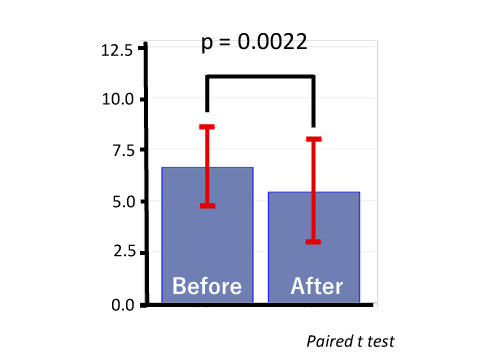 Analysis of 13 subjects including 4 dementia patients by Pittsburgh Sleep Quality Index(PSQI) showed that PSQI total score was significantly improved before and after 1 month use of Rinshu(p=0.0022). Most improved factor was sleep qality(p=0.0088、Fig. 1), and other factors such as sleep onset time and sleep difficulty were significantly improved(both p=0.0395、Fig. 2).
In individual cases, 10 cases of sleep disorders were reduced to 4 cases, and improvement was seen in 3 out of 4 cognitive elderly people (Fig. 3).